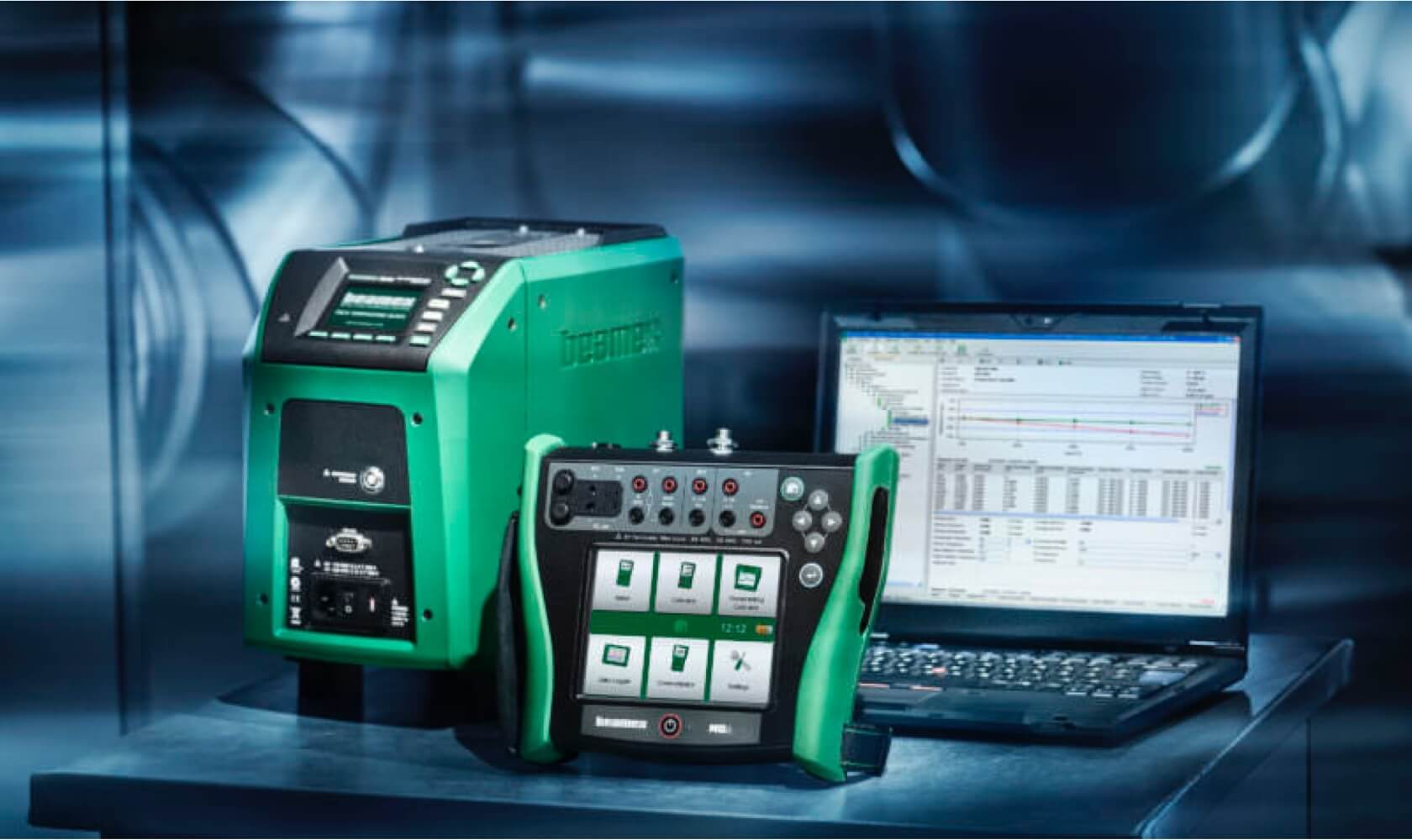 A complete range of brands of portable calibrators from world-renowned suppliers for Temperature, Pressure, and Electrical Signals, Pneumatic and Hydraulic Pumps, Handheld Manometers, Pressure Standards, Meteo Stations, and Workshop Calibration Benches.
A complete range of Calibration Software with full integration capabilities with other maintenance software packages.
Achieve Precision And Efficiency With Our Calibration Equipment
Calibration plays a crucial role in ensuring accurate and reliable measurements across various industries. At AMS IC, we offer a comprehensive range of calibration equipment solutions tailored to meet the diverse needs of our customers.
From portable calibrators to calibration software and hardware, our products are designed to deliver unparalleled precision and efficiency. Let's explore the benefits of our calibration equipment and why choosing us as your calibration partner is the right decision.
High-Quality Calibration Equipment
Calibration is the process of comparing the measurements of a device to a known standard in order to determine its accuracy. Our calibration instruments include a variety of tools such as portable calibrators, calibration software, and calibration hardware.
Portable calibrators offer ease of use and flexibility, allowing for on-site calibration of instruments. Calibration software simplifies the calibration process by providing step-by-step instructions and automated data management. Calibration hardware consists of devices used to verify and calibrate various types of equipment.
Benefits Of Our Calibration Equipment
Unparalleled Accuracy and Reliability: Our calibration equipment ensures precise measurements, reducing errors and minimising uncertainties in your test results.
Streamlined Maintenance and Calibration Processes: With our equipment, you can efficiently calibrate and maintain your instruments, optimising their performance and extending their lifespan.
Wide Range of Equipment for Diverse Applications: We offer a comprehensive selection of calibration instruments to cater to different industries and measurement needs.
Ensuring Compliance and Quality Standards: Our equipment helps you meet industry regulations and maintain the highest quality standards, fostering trust and reliability in your operations.
Enhanced Efficiency and Cost Savings: Accurate calibration reduces the risk of product defects, rework, and wastage, leading to improved efficiency and cost savings.
Choosing The Right Calibration Equipment
When selecting calibration equipment, several factors should be considered. It is essential to choose equipment with a suitable range, ensuring compatibility with the instruments you need to calibrate.
Opt for superior quality and durability to ensure long-term performance. Trustworthy brands and proven track records provide peace of mind in your calibration processes.
Our Calibration Equipment Solutions
We offer a wide array of calibration solutions to meet the specific needs of different industries:
Electrical Equipment Calibration: Calibrating electrical instruments to maintain accurate measurements and safe operation.
Pressure Instruments Calibration: Ensuring precise pressure measurements for critical applications in industries such as oil and gas, manufacturing, and pharmaceuticals.
Temperature Measurement Calibration: Calibration of thermocouples and other temperature sensors to guarantee accurate temperature readings.
Torque Tools Calibration: Calibrating torque wrenches and other torque tools for precise torque application.
Flow Metres and Balances Calibration: Calibrating flow metres and balances to maintain accuracy in fluid measurements and weight calculations.
Why Choose Our Calibration Equipment
At AMS IC, we pride ourselves on our credentials, expertise, and commitment to customer satisfaction. Our customers have attested to the quality and reliability of our products through their testimonials. We have received industry recognition in the form of awards for our dedication to excellence.
With a comprehensive range of products, we offer tailored calibration solutions to address your specific requirements. Our team of experts is dedicated to providing personalised support and guidance throughout your calibration journey.
The Calibration Process Made Easy
We understand that calibration can seem complex, but with our equipment and support, the process becomes streamlined and straightforward. Our step-by-step calibration procedure ensures accurate results.
We prioritise accuracy and traceability, providing detailed documentation and calibration certificates for compliance and audit purposes.
Contact AMS IC Today
Discover our full range of calibration equipment on our product pages and explore how we can assist you in achieving accurate and reliable measurements. Contact us today to discuss your calibration needs and take the first step toward enhancing your calibration processes.
Incorporating our state-of-the-art calibration equipment into your operations will ensure precision, efficiency, and compliance. Trust AMS IC as your calibration equipment provider and experience the benefits of accurate calibration.