BRONKHORST HIGH-TECH B.V.

Meters & Controllers for Pressure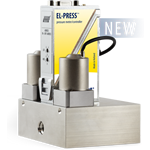 Bronkhorst digital electronic pressure transducers and controllers for gases and liquids have a well-proven compact thru-flow design. The instruments include a diaphragm type piezo-resistive pressure sensor for accurate and reliable pressure measurements. Various integrated or separate control valves can be offered for specific applications. There is a standard direct acting valve for common applications and a pilot operated valve for high flow rates. The so-called Vary-P valve that can cope with up to 400 bar ΔP and a bellows valve for applications with very low differential pressure.
For specific applications, customers may prefer to apply a metal sealed version, a rugged IP65 version, a microfluidic instrument or the most field proven, allround EL-PRESS series.
View More