Katronic introduces the KATflow 180 Gas Clamp-On Ultrasonic Flowmeter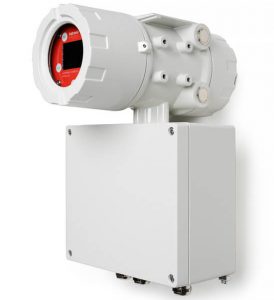 The new KATflow 180 represents the culmination of many years of development in the field of ultrasonic technology. It has been designed to
provide a reliable measurement on varying applications from high pressure flow systems to locations where in the past clamp-on devices would not have been considered suitable. Unlike other instruments the new meter can be installed on metallic gas pipes where the pressure is far lower than the recognised five bar minimum, with measurement possible down to atmospheric conditions. This is achieved through a combination of powerful sophisticated electronics, adaptive filtering techniques and innovative signal processing algorithms using Digital Signal Processors (DSP's).
Pipe Diameter 25 – 1500 mm Degree of Protection IP 66 Temperature Compensated Flow ATEX-certified Pressure Compensated Flow Various
Gases Possible With the innovations introduced by Katronic in the KATflow 180 it is possible to measure flow of a variety of different gaseous
media from 0.1 to 75 m/s. The advanced transducer assembly economically offers both shear and Lamb wave measurements with a minimum
number of sensors, for greater simplicity. The unit is available for permanent use in both safe and hazardous environments with rugged housings for Zones 1 and 2. The KATflow 180 is easily programmed with a magnetic pen for increased safety and can measure on all commonly used pipe materials.
Why Should You Get Your Instruments Calibrated on a Regular Basis
Equipment calibration is important. Period.
Companies may make the mistake of being lax or careless about calibrating their equipment or think of it as an unnecessary expense. Equipment running out of calibration won't just affect the quality of the products being manufactured but it may even put you out of business. Let's learn more about it.
Calibration is the process of comparing a reading on one piece of equipment or system, with another piece of equipment that has been calibrated and referenced to a known set of parameters. The equipment used as a reference should itself be directly traceable to equipment that is calibrated to a National Standard. Some of the common measurements that are usually calibrated include pressure, temperature, voltage, RH (relative humidity) current, relay contact and state.
Risks of Not Calibrating Your Equipment
Not calibrating your instruments could possibly put your business in situations that would not be desirable in certain situations, such as, Issues with food safety, Risk to customers' health, Breach of HACCP, Closure notice from environmental health officer or Legal notices. By calibrating your equipment, you can avoid these situations and be assured that the business doesn't suffer due to the production of a bad quality product.
Beamex offers Integrated Calibration Solution
The Beamex Integrated Calibration Solution (ICS) is the combination of software, hardware and calibration expertise that delivers an automated and paperless flow of calibration data. Beamex offers various calibrators, calibration software and related services.
For calibrators Beamex makes pressure calibrators, temperature calibrators and electrical calibrators. The calibrators come as portable calibrators or calibration benches for workshops. For calibration in hazardous Ex areas Beamex makes dedicated Ex calibrators. They combine field communicators in selected calibrators for you to have less to carry out in the field. The Beamex calibrators are documenting calibrators enabling paperless calibration when used together with calibration software.
Beamex calibration software provides compliance to regulations and quality standards such as ISO 9001, FDA, GMP/ GAMP, 21 CFR Part 11. It also integrates into asset management, maintenance management and ERP systems like IBM Maximo and SAP.
Limited Time Discount Offer On The Full Katronic
Product Range.
AMS is offering its customers an additional 10% off on the Katronic product range of Ultrasonic Clamp-On Flowmeters as per attached link
Valid for order placement from June 1 till June 31. Available to customers within our sales territory. Please use code: KATflow_180 to claim the discount.
Interface LoadCells
Interface manufactures more than 60 different types of load cells and mini load cells. We have capacities ranging from 1 lbf / 500 gf to 2 million lbf / 9,000 kN. The Interface facility produces them in several shapes and sizes. Models similar to pancake load cell and donut load cell including the LowProfile® load cell and thru-hole load cell. Additionally, their canister, rod end, downhole , column, coil tubing, load buttons, and load washers all use the proprietary alloy strain gauges. This helps Interface produce the most accurate and reliable data possible. Therefore, with the wide variety of load cell specs Interface has in stock, most customers are able to use an off-the-shelf application. However, Interface engineers can also work with the customer to design a custom load cell to fit your exact needs. Contact AMS so that we can help you find a solution that fits your needs.
Hawker Electronics
Hawker Electronics Limited was founded in 1963 to manufacture products to provide level control and indication for liquids and free flowing powder and granular products. Over the many years Hawker has become an industry byword in level control supplying to a diverse market. In particular the water & waste water sector. But also the environmental, chemical, pharmaceutical, paper, food, marine, bulk handling and many more. They are specialists in solving your application problems.
Hawker Electronics manufactures Conductivity level controls for conducting liquids, Ultrasonics for continuous Non-Contact level measurement, Capacitance for continuous level measurement and point level alarm and control, Pressure products for continuous level measurement and control systems and a range of indication and control products.
AMS News
AMS exhibited at the Darwin IICA TechExpo this month, which proved to be quite successful. In the picture our Qld / NT Manager, Brian
Plose, is showing our product folio.
Our new sales engineer, William Oey, has officially started his employ at AMS. After an intensive training week in Melbourne William is
raring to go and is going out visiting his customer base.
May proved to be an excellent month for AMS with several major projects won. Beamex and FCI were leading the way. The analytical
division also did vey well. We trust that June will be just as successful.
This month I will be visiting Beamex in Finland to get the latest information and releases and planning for the future. We will also have
a visit from Steve Craig from FCI, who will be giving training on the ST80 flow meter and visiting customers in Victoria and New South
Wales