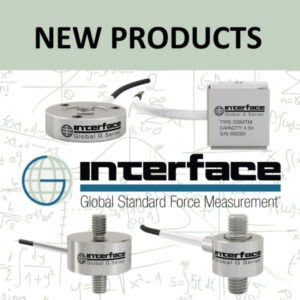 Interface has launched a new international Mini™ Load Cell product line, the Global G Series, under it's new product brand the Global Standard® Force Measurement and are available from AMS-IC.
The new miniature load cells were developed to meet the increasing demand for Interface high-precision, accurate and reliable force measurement solutions designed and manufactured in the International System of Units (SI), commonly known as the metric system.
The G Series debuts with Interface's most popular Mini™ load cells, enabling international customers to purchase these Global Standard Force Measurement products through the company's large network of distributors exclusively outside of the United States.
"The Interface brand is well-known worldwide for representing the premium standard for precision force and torque solutions. As demand for our products grew globally, we received many requests for SI-based designs of our load cells. We listened to our customers and are proud to launch our first G Series products that are the most popular miniature load cells used in aerospace and defense, automotive, medical and industrial automation industries worldwide." ," Greg Adams, CEO, Interface
Interface is manufacturing the Interface G Series lineup in the Asia-Pacific region, to provide customers with a near market advantage and access to the best force measurement solutions available today. Manufacturing these products near demand shortens the time and cost for customers to receive quality Interface products. Every product in the G Series has passed a rigorous Interface quality and engineering testing and calibration protocol to meet the highest in accuracy and quality standards.
The first release of G Series products available from AMS-IC include: